(Our first exhibition was, from large part, prepared by classical wet laboratory way. We made accessible only the digitally prepared section.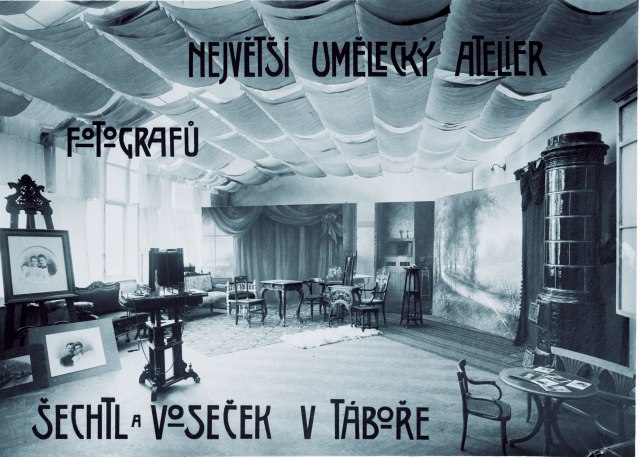 Three generations of the Šechtl family have been photographically recording life in Tábor for the past 140 years. Over thirteen thousand glass plate negatives have been preserved, from the years 1864 to 1940. These plates document the changes in Tábor as well as many interesting people including Emperor Franz Josef, presidents T. G. Masaryk and E. Beneš, sculptor František Bílek, inventor František Křižík and musicians Oskar Nedbal, Josef Suk and Bohuslav Foerster.
In the small area of our museum, you will find approximately 60 original photographs or enlargements of original negatives. We are working on an extensive project to digitize the entire archive, so you will be able to examine more than 1400 images, which will also be available on the Internet.
The first exhibition is focused on the work of Šechtl & Voseček studio, and on the town of Tábor in the time of the Austro-Hungarian empire and the Czechoslovak First Republic. Other themed exhibitions are planned for the future.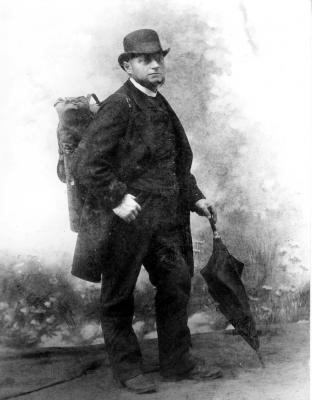 The founder of the firm, Ignác Josef Schächtl (1840–1911), who later changed his name to Šechtl, was photographically active from 1865 in Kladno, Plzeň and Nepomuk, before finally settling in Tábor in 1876. His first studio was at 333 Mikolas Husi Square. From 1878-1886 he worked with another photographer, Alex Seik. The day his son was born in 1877, Schächtl met Jan Voseček, a travelling salesman, who became a partner in the firm, and practically a member of the family.
Ignác Schächtl was very interested in technological innovation, and was the first person in Southern Bohemia to show moving pictures. He experimented with the earliest technique for colour photography, called "autochrome", and with other photographic techniques. He was one of the pioneers of capturing movement in still photographs.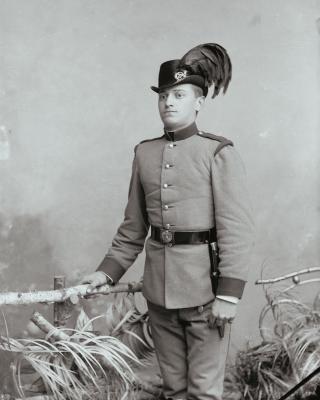 Josef Jindřich Šechtl (1877-1954) continued his father's tradition. He commenced the building of a modern photographic studio, in the main street, where the Hotel Palcát now stands. Josef Šechtl specialised in art photography, and was famous for his quality portraits. He provides us with a unique photo documentary of his time. Thanks to his attention to detail, his reputation grew, and the family business blossomed.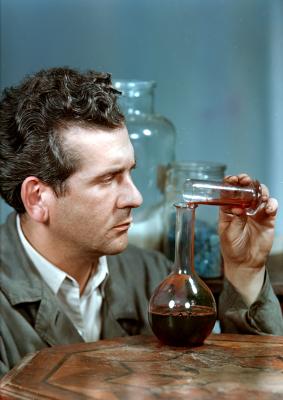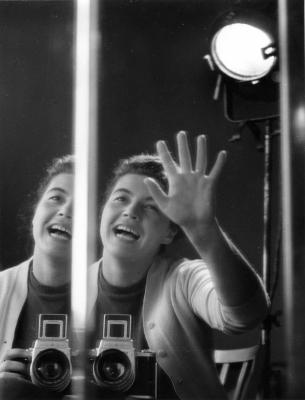 Josef Šechtl (1925–1992) and his wife Marie Šechtlová (1928–2008) took over the studio. Marie in particular, brought a feminine emotive element to their work. In the 1960's, she was among the most successful photographers of "the poetry of the everyday". Following the nationalisation of the studio by the Communist government in 1953, they continued as freelance photographers, mounting many exhibitions and producing a number of publications, including Jižní čechy, Hradec Králové, Loutky. Together they were a team of art photographers, pioneering colour photography and the use of large photographs for interier decoration.
Brief history of photographic techniques
Daguerrotype was the earliest photographic technique. Negatives were not used and photography could not be copied, so only two daguerreotypes created by Ignác Schachtl remain in our family.
Nicéphor Niepce attempted to create metal plates which could be used to print pictures. He covered plates with asphalt and exposed them to light, in a device he called "camera obscura".
Jacques Mandé Daguerre, a painter and owner of diorama, (born 1787), attempted to prepare images produced by the "camera obscura". He know silver iodide was darkened by exposure to light; he therefore exposed silver-covered plates to iodine vapor, producing silver iodide. These plates were exposed to light in a photographic camera, resulting in a weak picture, which could not be "fixed", and which eventually disappeared.
Eventually, in 1837, by cheer coincidence he achieved a successful result. He had placed one of the exposed plates into a cupboard in his workshop. Later he found on the pate a clear picture. He had no explanation but in repeating the experiment concluded that something in the cupboard made the difference. Repeating the experiment and removing one item at a time, until all that remained was the broken bottle containing mercury. He concluded that the mercury vapors developed the picture.
He subsequently exposed a plate to light and then to vapor of mercury, heated over a flam. Mercury settled on the are which has not been exposed to light and produced a "positive", with all the details of original object. The picture had to be "fixed". For that he used a solution of kitchen salt, which he later replaced with sodium sulphide.
We gratefully acknowledge financial grants from the south Bohemian District and from the Tábor Town Concil, and the willing help of many supporters, who have enabled the museum to be opened.
— The Šechtl, Hubička and Škrla famillies.