Auguste & Louis Lumière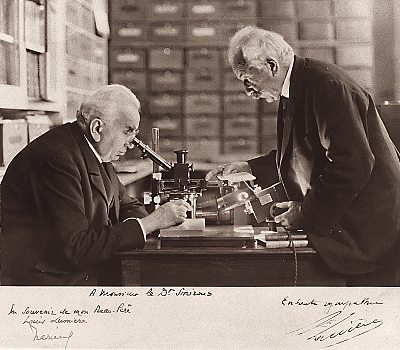 Genius inventors, and pioneers of cinema and color photography, Auguste (1862 – 1954) and Louis (1864 – 1948) Lumière, were born in Besançon, France. In 1881, aged only 17, Louis invented a highly sensitive photographic plate, which was manufactured in his father's factory in Lyon.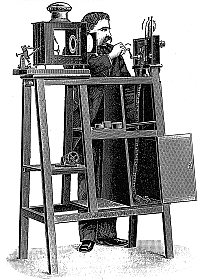 They are famous mainly for their development of the "Cinématographe". The idea of projecting moving pictures came from their father, Antoine Lumière. He had seen an example of Edison's "Kinetoscope" in USA, and he encouraged his sons to devise a projecting apparatus. A few months later they produced a successful prototype of the Cinématographe, which was a combination camera, printer and projector, and was patented on 13 February 1895. However, the brothers believed it to be a scientific curiosity without a future, and with no commercial potential.
Probably the world's first film screening, (a short movie of workers leaving their factory at the end of the day) was shown in Paris in December 1895. Soon after, the Lumière brothers made a number of other films, all around one minute long. The most famous, "L'Arrivée d'un Train en Gare de la Ciotât", shows a train arriving at La Ciotât railway station, and what was possibly the first film comedy, "L'Arroseur Arrosé". Their presentation for the French Photographic Congress held in Lyon in June 1895 was very successful, the delegates being particularly impressed at seeing a motion film of themselves, taken only the previous day.
In 1895, Antoine Lumière opened a cinema theatre in Paris, and subsequently, the cinematographe became very successful throughout Europe and America. Auguste and Louis Lumière continued to work on technical developments, and in 1900 they devised a camera which took large-format 75 mm films.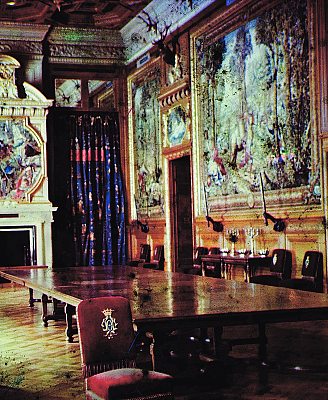 The great success of the cinématographe didn't stop them working on new inventions. Louis also developed a process of stereoscopic cinematography, and for several years, they worked systematically on developing the first successful color photographic process, the "Autochrome Lumière". Patented in France in 1903, and in the USA in 1904, this process first became commercially available in 1907.
Author:
Jan Hubička