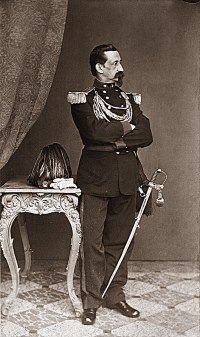 Alexander Seik, (born 1824, Mirotice u Písku; died 1905, Tábor), was one of the earliest Czech photographers, and began taking photographs in 1855. In 1859, he moved to Tábor, where he founded the first photographic studio in the town. He specialised in portrait photography, but was also known for his outdoor work. In 1860 he made the first photograph of Tábor town, and soon he was offering for sale photographs of the city and its surroundings.
The speciality of his studio however was chromophotography, a special technique in between photography and painting. This rare technique was mastered by just a very few photographers, and Seik is believed to have been one of inventors of the technique. In 1878 he went into partnership with photographer Ignác Schächtl, and for a few years they were both working in their separate studios, and splitting all their income evenly. Later, Seik became successful in politics, and in the 1890s he became the city mayor, and closed his photographic studio. See also his detailed biography
Sadly only few photographs are known to be preserved from the work of Alexander Seik and the photographs presented here (originally exhibited at 4th exhibition of Musem Šechtl and Voseček) are representative selection of all his known work. The archive of negatives was most probably lost together and only collection of photographs of Prussian soldiers and sharp shooters album are known to be preserved. Thus we ask everyone, who knows of more photographs by this author to contact us.