Šechtl & Voseček Museum of Photography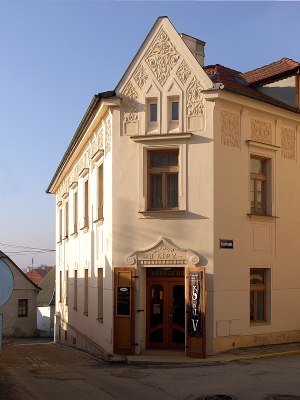 Address
Šechtl & Voseček Museum of Photography
U Lípy House (map)
Náměstí Mikuláše z Husi ("Nicholas of Husi Square")
Filipovská 72
Tábor 390 01 (map)
Czech Republic (map)
Museum is permanently closed.
Visit our exhibition at
kinokavárna Svět
and
Brewery museum
. You can also see our
past exhibitions online.
Previous exhibitions in WWW form
We are working hard to make our past exhibitions available on the internet in the form of on-line exhibitions. Our "real" exhibitions usually display more photographs, and in much better quality, than we can publish on the internet. Still, we hope you will find the on-line exhibitions interesting.
If you are interested in displaying any of our past exhibitions, please let us know. We would be very happy to assist you in any way we can, and several of our exhibitions have already been displayed at other institutions.
20th exhibition (till May 6th, 2012)
"When the World Turned to Color Early Color Photography from the Mark Jacobs Collection"

whole exhibition is available on-line
15th exhibition (till November 10th, 2009)
"South Bohemia Exhibition in Tábor, 1929 – Professor Theodor Petřík and Tábor"

whole exhibition is available on-line
12th exhibition (till October 22nd, 2008)
"Jaroslav Charfreitág: Trip to the New World"

whole exhibition is available on-line
11th exhibition (till July 14th, 2008)
"Marie Šechtlová: Life with Photography"
Curator of exhibition:Antonín Dufek

Major part of exhibition is available on-line
10th exhibition (till March 15th, 2008)
"100 years of autochrome"

The part of exhibition dedicated to Czech Autochrome is available on-line
9th exhibition (till October 23rd, 2007)
"Josef Jindřich Šechtl - Leica Photographer"

The exhibition is now fully on-line
8th exhibition (till May 16th, 2007)
"František Krátký: Pictures from Italy, 1897"
Curator of exhibition:Pavel Scheufler
7th exhibition (till March 2nd, 2007)
"Marie Šechtlová: Photographic Stories"
Curator of exhibition:Antonín Dufek
6th exhibition (till November 16th 2006)
"Historical photographs celebrating 140 years of the School of Agriculture in Tábor"
5th exhibition (till June 16th 2006)
"Sergei Mikhailovich Prokudin-Gorsky: A Selection from the Collection "The Splendors of Russia in Natural Color"—Color Photographs from the Years 1905–1916"

4th exhibition (till end of February 2006)
"Alexander Seik and Ignác Šechtl—first photographers in Tábor. Commemorating the 100th Anniversary of the death of Alexander Seik, 1905"
3rd exhibition (till end of September 2005)
"Historical photographs—100 years of Tábor Gym Hall"
2nd exhibition (till May 2nd 2005)
"Photographic Techniques of Josef Šechtl"
1st exhibition (till April 2005)
"History of Šechtl & Voseček Studio"
From the opening day
Media partners
About us
Three generations of the Šechtl family have been photographically recording life in Tábor for the past 140 years. Over thirteen thousand glass plate negatives have been preserved, from the years 1864 to 1940. These plates document the changes in Tábor as well as many interesting people including Emperor Franz Josef, presidents T. G. Masaryk and E. Beneš, sculptor František Bílek, inventor František Křižík and musicians Oskar Nedbal, Josef Suk and Bohuslav Foerster.